Restoring Hope & Dignity For Elderly Widows.
3150 aged widows being served across Vrindavan and Radhakund given personalized care
Daily distribution of milk and vegetables
Monthly distribution of ration

Home visits, Active Aging & Complete Need-based care.

Provision of rent when needed

Free Medical assistance

Funeral Rites
SERVING WITHOUT BOUNDARIES!
An Ashram Without Walls: The Matri Seva Program

The Matri Seva Program approaches the community as an ashram without walls. This program is not limited to merely looking after some mothers but encompasses a holistic approach to providing compassionate care for elderly, abandoned mothers, and sadhus in the community of Vrindavan and Radhakund. Our mission is to enhance their lives by addressing their physical, emotional, and mental well-being, and create a nurturing environment of a loving family. The spirit of family and community support is ingrained in our approach, ensuring that every individual feels cared for and cherished. With deep compassion and a sense of duty, our team of medical professionals and staff work tirelessly to ensure that quality healthcare is not denied to anyone due to economic circumstances. We firmly believe that everyone deserves a chance at a healthier and happier life and our efforts are dedicated to making that vision a reality.

Providing Basic Necessities: At the core of our program is the commitment to meeting the basic needs of the elderly. We understand the importance of ensuring their daily necessities and the Matri Seva Program supplies them with essential items like milk, vegetables, and monthly rations, ensuring they have access to healthy and balanced meals. By addressing their dietary requirements, we aim to provide them with the nourishment they need for a healthy and fulfilling life.

Comprehensive Medical Support: Knowing the vulnerability of elderly individuals, the Matri Seva program goes above and beyond to provide comprehensive medical support. We understand the challenges they face and offer need-based care to address their health concerns. Through our program, these mothers receive free medical care, including timely treatment, regular check-ups, and access to healthcare professionals. We take care of every aspect of their medical needs, from accompanying them to the hospital and assisting with admissions and consultations, to providing pre and post-operative care. Our goal is to alleviate the burden of medical expenses and ensure their well-being is prioritized.

Emotional Support and Companionship: Our program doesn't stop at physical care alone! Emotional well-being is essential for the overall happiness and contentment of these abandoned mothers. The Matri Seva program strives to combat their feelings of loneliness by providing them with emotional support and companionship. Our dedicated community staff members visit each mother twice a week, spending quality time with them. We develop meaningful connections, treating them as part of our own family. Engaging in activities such as cooking, cleaning, and washing clothes together not only lightens their daily burdens but also fosters a sense of belonging and purpose.

Recreation and Mental Health: In addition to emotional support, the Matri Seva program understands the importance of recreation and mental health. We organize various recreational activities for these elderly mothers, incorporating games and entertainment to bring moments of joy and laughter into their lives. These activities help relieve stress and uplift their spirits, contributing to their overall well-being. Furthermore, we conduct yoga sessions specifically designed to promote physical fitness, flexibility, and mental tranquility. Our aim is to improve their overall quality of life and ensure that their mental health is nurtured.

Providing Housing Support: The Matri Seva program also recognizes that some elderly mothers may require housing support. In such cases, we extend our assistance by providing rent to ensure their safety, security, and comfort. By relieving them of the financial burden of housing expenses, we enable these mothers to focus on their well-being and enjoy a stable living environment.

Restoring Dignity and Joy: By treating the mothers as cherished members of our extended family, our program restores their dignity and provides a nurturing environment where they can live with joy and contentment. This program shows how being kind can truly change the lives of those who need help. Let's work together to serve without limits and make a positive impact on the lives of these kind individuals.

Join the Movement for Positive Impact: The Matri Seva program encourages everyone to work together and serve without limits, making a positive impact on the lives of these kind individuals. Through this collective effort, we can empower and support those in need, fostering a society that values the well-being of its most vulnerable members.
HOW WE SERVE THE COMMUNITY MOTHERS DAILY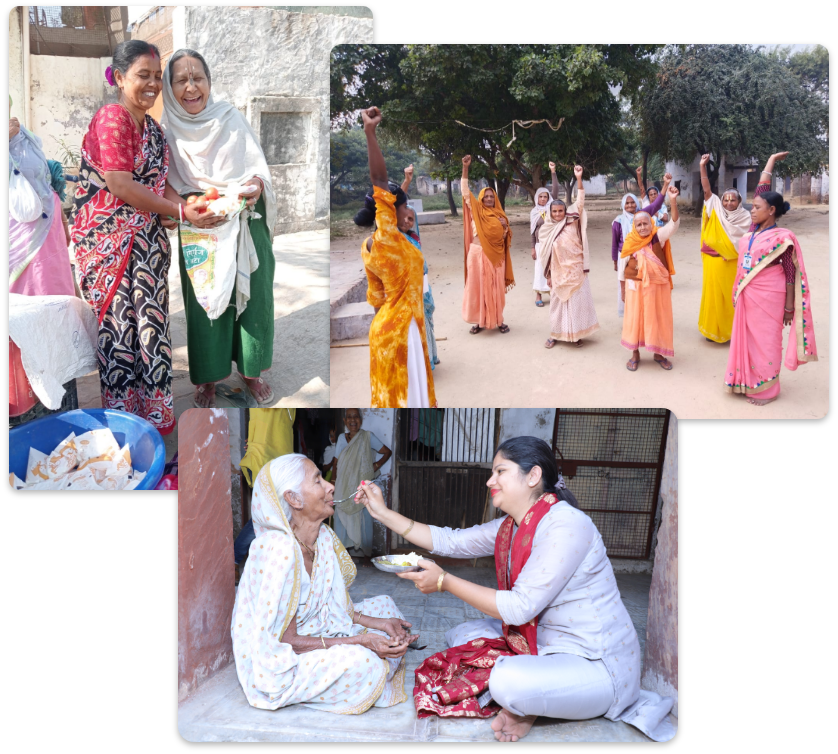 Our Community Care Assistants guide the Mothers everyday through some Active Ageing activities like Yoga, Energisation, Healing Prayers and Mantra chanting between 9:OOam-11:OOam before distributing milk and vegetables to them.
After the distribution each Community Care Assistant goes personally to visit the homes of 20-25 Mothers in his/her assigned areas per day, which occupies the rest of the day.
Mothers stay in their own rented rooms. The Yogananda Trust also helps out with some of these rents. During the home visits our Community Care Assistants find out how the Mothers are doing, physically help the infirm Mothers with household chores, chat with the Mothers and spend time with them.
DAILY HOSPITAL SCHEDULE FOR THE MOTHERS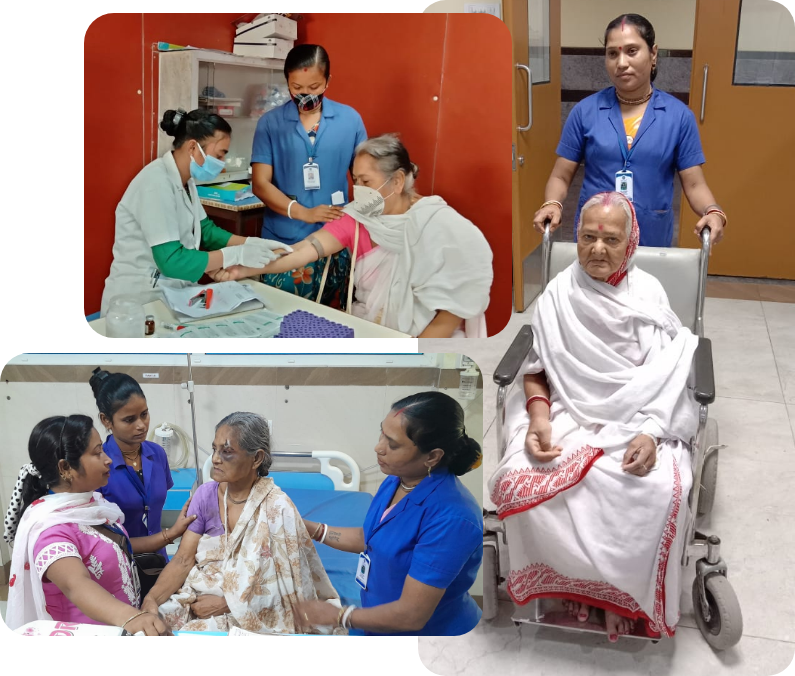 Our Hospital Assistants collect the Mothers who need to see the doctor from their assigned localities of Vrindavan and Radhakund in the Yogananda Trust-owned ambulance and/or E- rickshaw. They are brought to the OPD section where our Hospital coordinator is ready with the appointments.
There are some Mothers who come to the hospital on their own and the coordinator guides them and helps them. The tasks of the Hospital Assistants are – Registration of the patients at the OPD counter, and taking the Mother to see the doctor as per the token given. As per diagnosis tests are done and medicines are collected, or hospital admission is done.
Hospital Assistants collect the medicines as per the prescription and explain the dosage to the Mothers. If required the Hospital Assistants deliver the medicine to the mother's homes as well. The Mothers who are admitted to the hospital for any procedure or any serious issue are looked after by the Yogananda Trust appointed 24 hours Bedside Care Attendants for the entire duration of their stay at the hospital without whom the hospital will not allow any patient admission.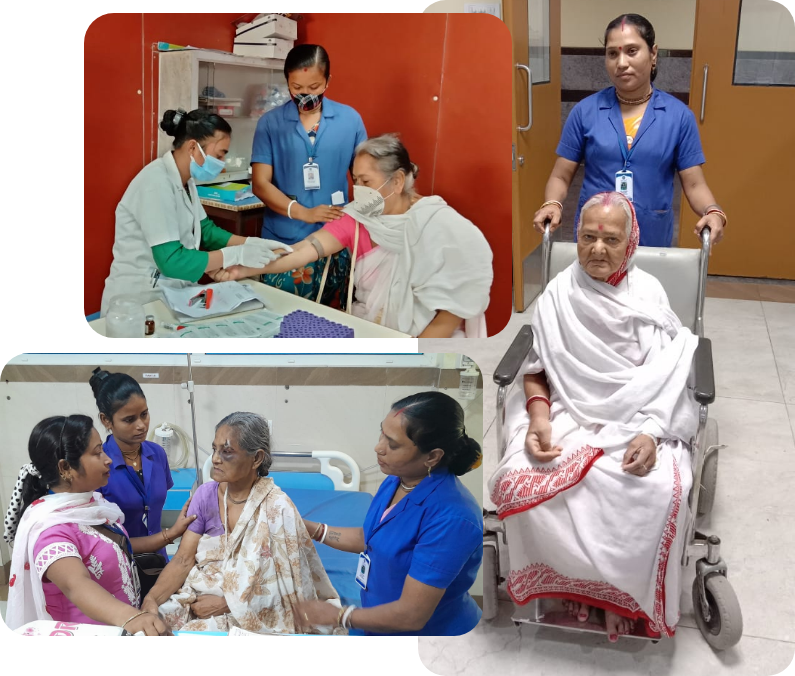 KEY INITIATIVES UNDER THE PROGRAM

Nitya Aahar Seva
( Daily Vegetable & Milk Distribution )
38,15.610 units distributed up to March 2023 (I unit =1-2 days roquiromont of vogotablos for ono person).
3100 beneficiaries.
6 Distribution centers across Vrindavan.
Distribution recorded through QR code enabled ID cards issued to beneficiaries.

Anna Seva
( Monthly Ration Distribution )
3.49.525 units distributod up to March 2023 (lunit =1 month ration for ono person)
3100 beneficiaries.
6 Distribution centers across Vrindavan.
Ration includes atta, rice, pulses, sugar, mustard oil, tea, cumin, washing soap and powder, turmeric, salt, soybean bari
Distribution recorded through QR code enabled ID cards issued to beneficiaries

Free Medical Care
Includes OPD. Hospitalization, surgeries, transplants. eye care, physiotherapy, treatment for life-threatening diseases like cancer. heart ailments, organ failure etc.
Provides trained beside attendant to homeless. hospitalized Mothers.
2 ambulances are on 24X7 duty to transport mothers to the hospital
Complete assistance at Hospital right from registration, documentation to discharge
Community Home Visits and Need-Based Care
3100 mothers visited twice every week by Trust's field sevaks.
Sevaks help infirm mothers with household chores such as cooking & cleaning
Sevaks spend quality time and share a family like bond with every mother
Home based medical care is provided
Rent, clothing, footwear and water is provided as needed
Home delivery of milk and vegetables, ration and medicines for infirm mothers

Active Aging Initiative
Yoga & energization exercises
Brain Games for active cognitive function
Daily prayers and Satsangs
Breathing exercises
Scripture reading, Chanting & meditation
Painting and Antakshari
Group tea and get togethers
Conducting Last Rites & Rituals
Near family, if any, is contacted
Prayers, Hari kirtan, Mahamantra jaap, and Gita paath are offered
Vedic rituals are conducted by a priest on the bank of the holy Yamuna river
On the 13th day, food is offered to an elderly Mother
Every six months, a havan is performed at the Yogananda Trust.
An annual tarpan and shraadh ceremony takes place during Mahalaya for peace of all the departed souls.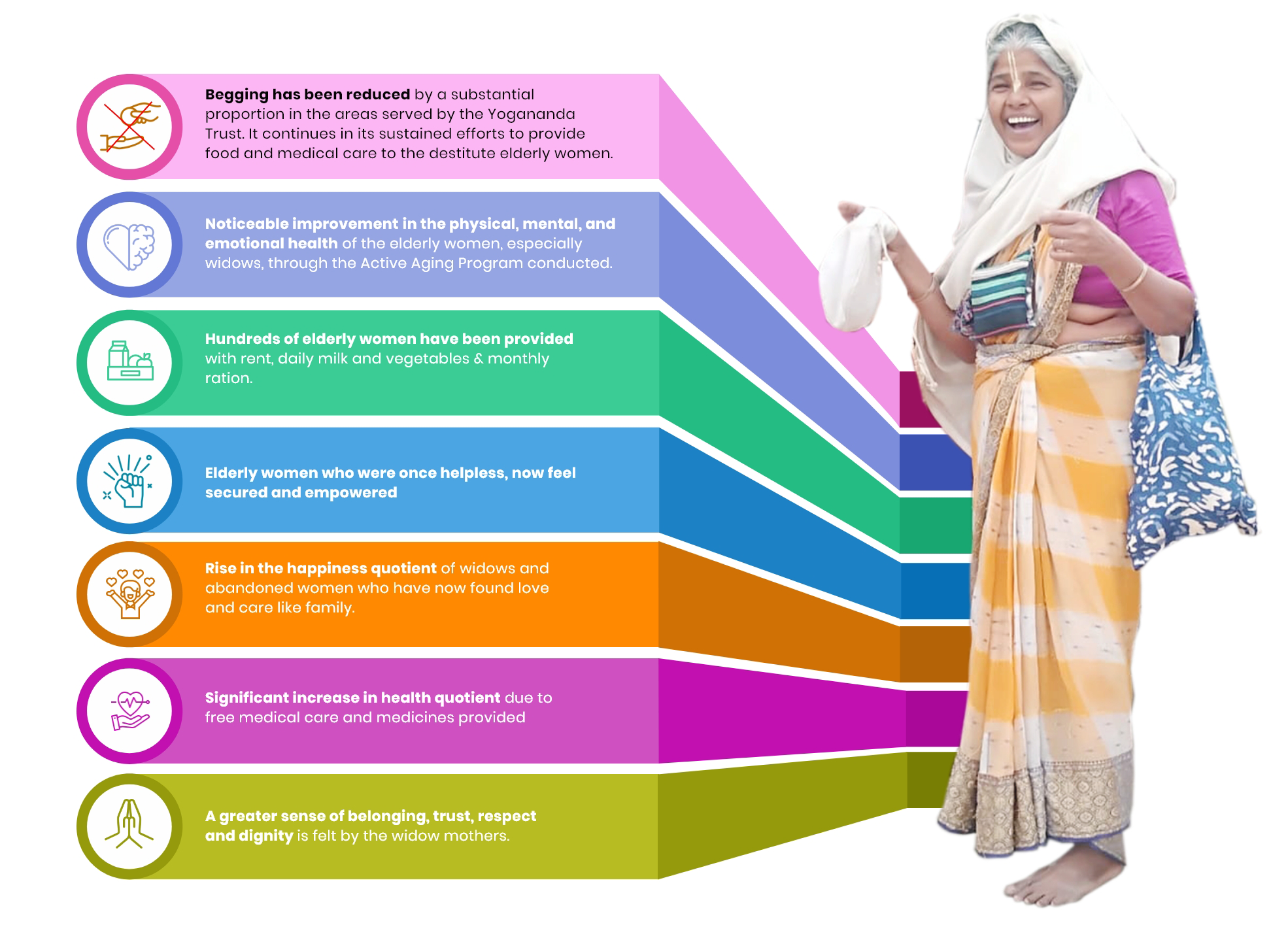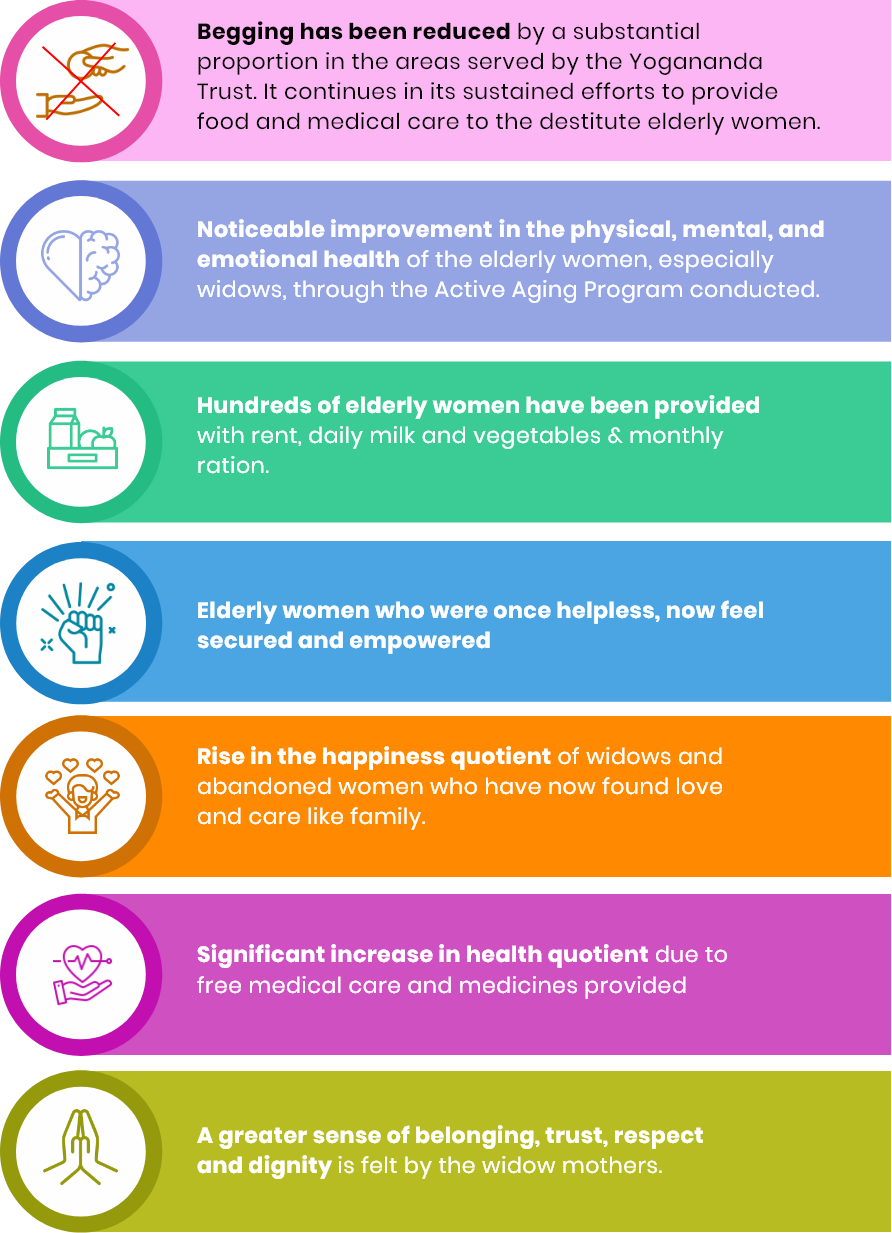 Who does this program serve?
Ashram Seva is available to Infirm Elderly widow mothers above the age of 60 who have been abandoned by society & are subject to inhuman living conditions.
How do widow mothers enroll?
Our field sevaks visit widow mothers in & around Vrindavan and Radhakund daily. Ashram Seva is provided to those widow mothers who have special needs or pass certain eligibility criterias.