Provide Food, Shelter, Medical Care & Happiness To Thousands In Need
Matri Seva (₹ 10,000)
Adopt a Mother (1 mother pm)
Anna Seva (₹ 6000)
Monthly Ration (10 Mother's pm)
Nitya Ahar Seva (₹ 4,800)
Daily Milk and Vegetables (10 Mother's pm)
Vastra Seva (₹ 2,500)
Mother's Clothing (1 mother pm)
Winter Vastra Seva (₹ 1,500)
Mother's Winter Clothing (1 mother pm)
Paduka Seva (₹ 1000)
Mother's footwear (For 10 Mother's)
Shayan Seva (₹ 2000)
Mother's Bedding (For 1 mother)
Vrat Seva (₹ 1,100)
Mother's Religious Fasts (10 Mother's pm)
Your donations are tax exempted under 80G of the Indian Income Tax Act

We accept all major payment methods
Hospitalisation (₹ 10,000)
DESCRIPTION OF THE DIFFERENT PROGRAMS YOU CAN DONATE TO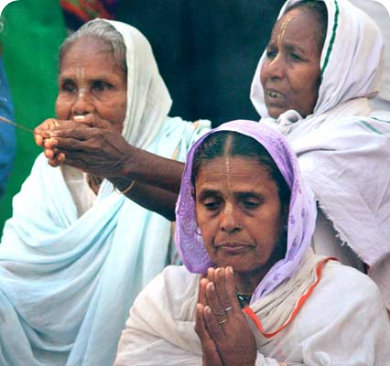 Donate towards Matri Seva
(Widow Welfare)
Support 1 mother per month in the ashram. Be a part of her family, make her your own. Provide for her daily needs of food, clothing, stay, utilities, etc.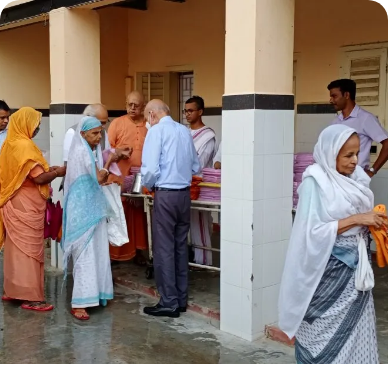 Vastra Seva
(Mother's Clothing)
Gift sarees, blouse, and petticoat to the mothers. Support 1 mother for 1 year.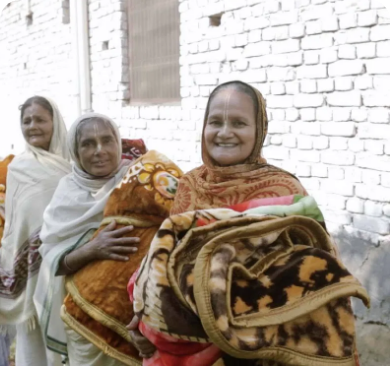 Winter Vastra Seva
(Mother's Winter Clothes)
In the winter season, gift the mothers some warm clothes to stay comfortable – thermals, cardigan, gloves, socks, cap, shawl, etc. Support 1 Ashram Mother for 1 year.
Paduka Seva
(Mother's Footwear)
Provide moms with comfortable shoes to go on parikrama and share God's joy and love with others. Support 10 Ashram Mothers in 1 year.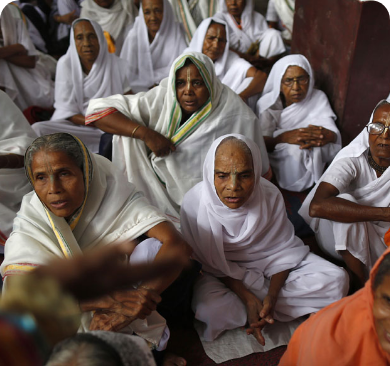 Vrat Seva
(Service To Mothers)
Assist the mothers with food during their religious fast – fruits, snacks, sweets, milk, etc. Support 10 Ashram Mothers for 1 year.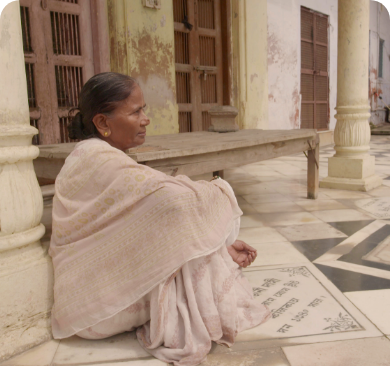 Shayan Seva
(Mother's Bedding)
Gift comfortable bedding to the mothers so that they have a peaceful night's rest – bed sheet & pillow cover, pillow, light blanket/dohar, kambal, etc. Support 1 Ashram Mother for 1 year.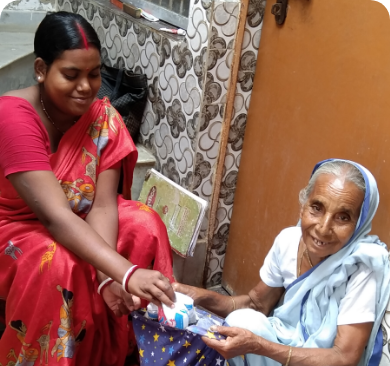 Nitya Ahar Seva
(Daily Milk & Vegetables)
Provide the Mothers and Fathers living in various communities of Vrindavan with Daily Milk and Vegetables. Support 10 Mothers/Fathers for 1 month.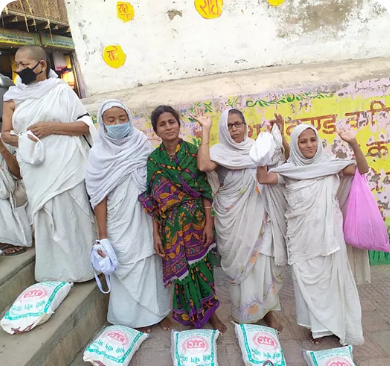 Ann Seva
(Monthly Ration)
Provide the Mothers and Fathers living in various communities of Vrindavan with monthly ration of rice, wheat flour, dal, salt, cooking oil, spices, toiletries etc. Support 10 Mothers/Fathers for 1 month.
We urge you to consider setting aside a portion of your profits towards CSR activities.
Your contribution, no matter how big or small, can help turn someone's life around.
Let's work together to build a better tomorrow for all.
Way back , when I learnt that there is such an Organization named after my Gurudev , I felt that my hard earned money will be fruitfully used.I donated because in my heart , I desired that these ageing Maas , be given the BEST CARE & COMFORT , money can buy. I want them to be happy & live with dignity , especially in the twilight years of their life. I felt much appreciated. There were many Volunteers who got in touch , to get to know me better , to make friends with me.This interaction made me happy & felt loved & cared for. I am often briefed about how the money is spent for the wellbeing of the Mothers.
Minal ,

Donor
There is much that goes behind the scenes to create and look after such a large number of old people. Their health requirements (they actually have a physiotherapy room with a therapist helping each individual), their medical needs even in emergencies and until their last breath, and even their last rites! Their daily food, their need for clean and comfortable bedding, their clothes (sarees), washing and cleaning. They have a dedicated staff that works around the clock (and during Covid lockdowns actually did not go back to their own homes) to look after their every need. I would encourage every individual to visit and support this most worthy trust. The blessings you get are tremendous. Also reminds you how privileged we are and how a little love can come back manifold! The trust does a great job of keeping one informed of their activities and upcoming programs - helps you know and keep in touch of what is happening. You can also choose to volunteer to talk to anyone of them remotely.
Shalini

Kumar
Having been a kriyaban for about 17 years, I have seen Ananda grow. Many new centers and sevas have been opened and added. Our spiritual guides, Nayaswamis, have inspired us with their devotion, selfless service and team work. Yogananda Charitable Trust has inspired me and my family to support this project. This trust has taken so many widows under their umbrella. They are provided food, shelter and medical facilities. So our Matas now have their basic needs and a home filled with joy, security and respect. Sometimes when I talk to a Mata, she says that they have a home, Yogananda baba has given them security. Some of them were homeless. I am not able to do any physical seva in Vrindavan, but can support our Yogananda Trust. Ananda is a very honest organization. The funds are used in a very proper manner for the welfare of Matas. I find this as a blessing to be part of Ananda and be able to serve and support Yogananda Charitable Trust in a small way. Jai Guru.
Neelam

Shahani
When I visited Vrindavan and had a chance to meet the widows and the trust staff, I was deeply inspired by the work they are doing and felt the desire to support them in some way. Everyone at the trust functions not just with a high level of integrity and transparency, but with enormous compassion and commitment to service. It is a joy to see the many creative projects that they are always spearheading to serve the widows, and to witness the fruits of my support in the great work that is being done in the community through them.
Saiganesh

Sairaman
Every Little Bit Counts

With your help, we can accomplish
our goals. We pray that your kindness
towards us will not cease.
Do I Get A Tax Rebate If I Donate?
Your donations are tax-free Under section 80G of the Income Tax Act of India Contact us 
How Do I Know My Donation Is Being Used In The Right Cause?
Paramahansa Yogananda Charitable Trust is a registered NGO & operates with complete transparency. You will receive quarterly newsletters and regular whatsapp updates sharing how your donations have contributed to our cause.
What Are The Other Ways I Can Contribute?
You can always volunteer for our Circle of Love and Seva Programs. You can also spread awareness about the urgency of this cause and encourage your friends and family to donate and volunteer as well. Read more about them here
Divisha at 9967970630/[email protected].